Here's the latest on my Project Camper Car. Please check it out.
Over the past several days I've gotten the car on the ground with wheels and tires. The front tires are from the Fury as are the open wheels. The left side one is painted silver with a correct dog-dish hubcap while the right side one is painted body color but with a hubcap from the Lindberg 1964 Dodge 330 kit. The rear tires are some AMT Goodyear treaded racing tires with different wheels on each side both of which were from my junk parts stash and look pretty scroungy.
I polished the windshield and rear door windows with a harsh polish to give them a hazy look. The epoxy that is visible on the door windows won't be seen when the camper is installed. The back window is painted black from the inside so that the empty camper shell can't be seen from the interior. The chassis is now glued onto the body/interior unit.
The driver's seat is from a Jo-Han 1970 Road Runner kit and is Tamiya Racing white over white primer and overcoated with Tamiya clear flat. The passenger seat is from an MPC 1976 Dodge Dart Sport kit and is painted Duplicolor Flame red over gray primer and overcoated with clear flat. The back seat is from the Lindberg 1964 Dodge 330 kit. The gear shift is from and AMT 1968 Road Runner.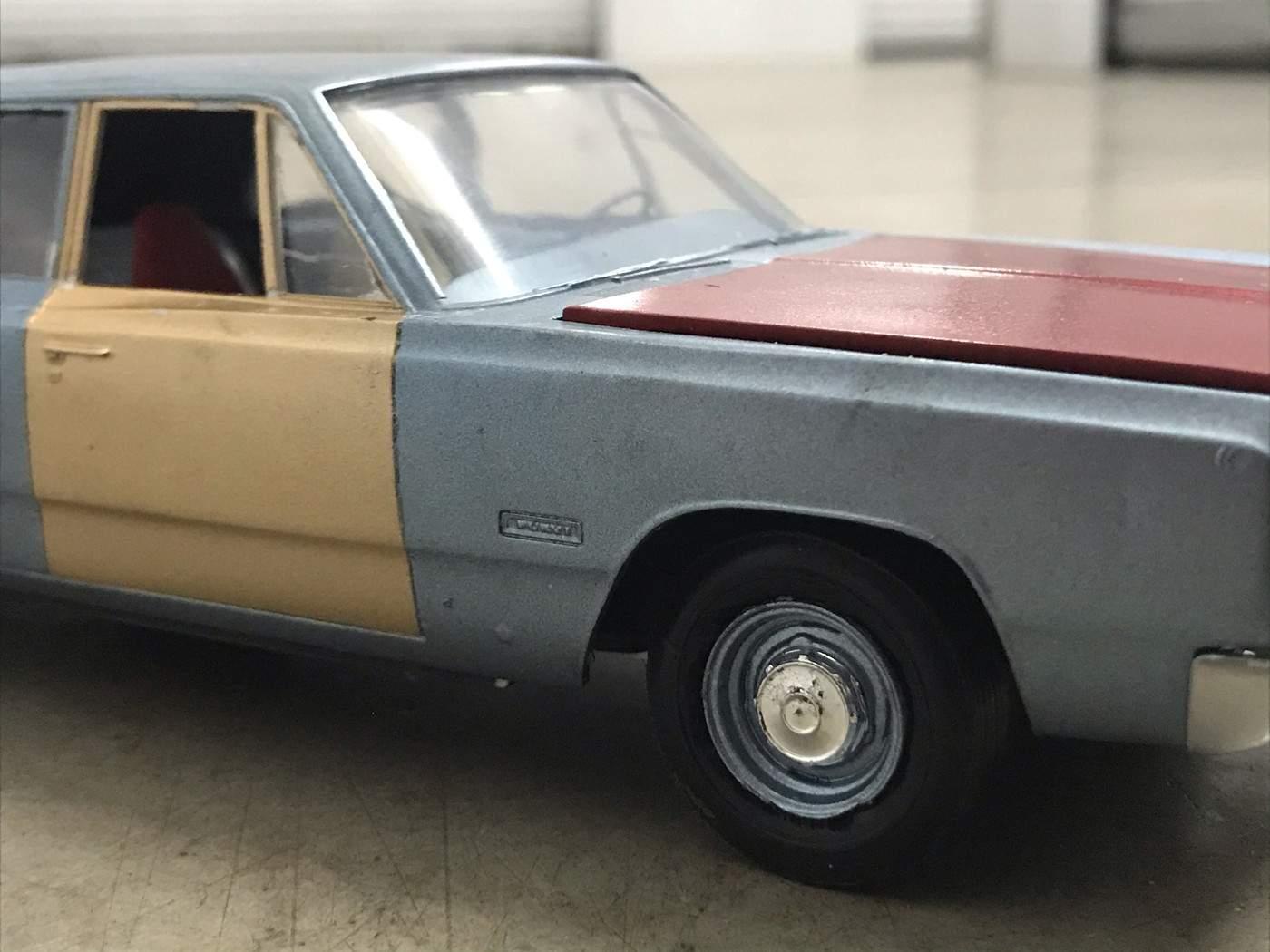 For the benefit of those who haven't seen the previous installments Project Camper Car is a curbside build based on the Jo-Han 1968 Plymouth Fury police car kit and the camper from some of the reissues of the AMT 1959 and 1965 El Camino kits.
I hope some of you like what I'm doing on this project.
Thanks for taking the time to look,
Chuck